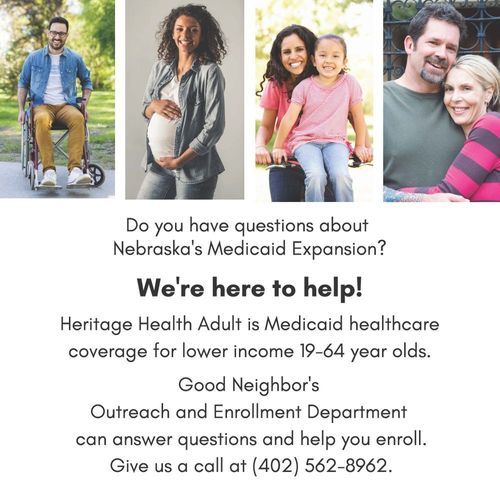 Heritage Health Adult (HHA) expands Nebraska Medicaid and will cover Nebraska residents, ages 19 through 64, whose income is at or below 138 percent of the federal poverty level. For 2020, this is an annual income of $17,609 for a single person and $36,156 for a household of four.
HHA will provide health coverage through managed care organizations, also known as Heritage Health plans.
What benefits does HHA cover?
Heritage Health Adult will have two benefit packages: Basic and Prime.
Basic benefits include medical, behavioral health, and prescription drug coverage.
Prime benefits include all Basic benefits, plus dental, vision, and over-the-counter medication coverage. These benefits are available to pregnant women, medically frail adults*, and adults 19 to 20 years of age.
Basic Benefits include:
Ambulatory care  

Emergency 

Hospitalization  

Maternity and Newborn care 

Mental Health and Substance Use Disorder Services, including Behavioral Health 

Prescription Drugs  

Rehabilitative & Habilitative Services and devices 

Laboratory  

Preventive, wellness, and chronic disease management  

Other services such as: long-term care, non-emergency medical transportation, durable medical equipment
Prime Benefits include: 
All services included in Basic benefits; plus:  

Dental 

Vision 

Over the counter medication 

Pediatric services including oral and vision care (EPSDT services for 19 and 20 year olds)
*Who is Considered "Medically Frail"
Medically Frail Individuals with a qualifying health condition or life circumstance may be determined to be Medically Frail.  Individuals enrolled in Heritage Health Adult and determined to be Medically Frail will receive the Prime Benefits package (see Benefits and Services).
Conditions or circumstances included with Medically Frail status: 
A disabling mental disorder; 

A chronic substance use disorder;

A physical, intellectual, or developmental disability with functional impairment that significantly impairs you from performing one or more activities of daily living each time the activity occurs; 

A disability determination based on Social Security Criteria; 

A serious and complex medical condition; or 

Chronic homelessness as defined by the United States Department of Housing and Urban Development.
Anyone currently enrolled in Heritage Health Adult can request to be reviewed for Medically Frail status. In order to be determined Medically Frail, DHHS may need certain medical documents. This may include an attestation from an appropriate health care provider. A member's Heritage Health plan will be able to help with this process. A Medically Frail determination is effective for either one or three years, depending on the health diagnosis. This will need to be re-determined at the end of that period in order to retain Medically Frail status. More information is available on the DHHS website at http://dhhs.ne.gov/ Pages/Medically-Frail.aspx.