What Is Influenza (Flu)?
Flu is a contagious respiratory illness caused by influenza viruses that infect the nose, throat, and sometimes the lungs. It can cause mild to severe illness, and at times can lead to death. There are two main types of influenza (flu) virus: Types A and B. The influenza A and B viruses that routinely spread in people (human influenza viruses) are responsible for seasonal flu epidemics each year.
Preventing Seasonal Flu
People with flu can spread it to others up to about 6 feet away. Most experts think that flu viruses spread mainly by droplets made when people with flu cough, sneeze or talk. To help slow the spread of germs that cause respiratory (nose, throat, and lungs) illnesses, like flu, CDC also recommends everyday preventive actions like:
Staying away from people who are sick.
Covering coughs and sneezes.
Frequent handwashing.
You may be able to pass on flu to someone else before you know you are sick, as well as while you are sick.
People with flu are most contagious in the first 3-4 days after their illness begins.
Some otherwise healthy adults may be able to infect others beginning 1 day before symptoms develop and up to 5 to 7 days after becoming sick.
Some people, especially young children and people with weakened immune systems, might be able to infect others with flu viruses for an even longer time.
Flu Vaccines are Key to Prevention
The first and most important step in preventing flu is to get a flu vaccine each year. Flu vaccine has been shown to reduce flu related illnesses and the risk of serious flu complications that can result in hospitalization or even death.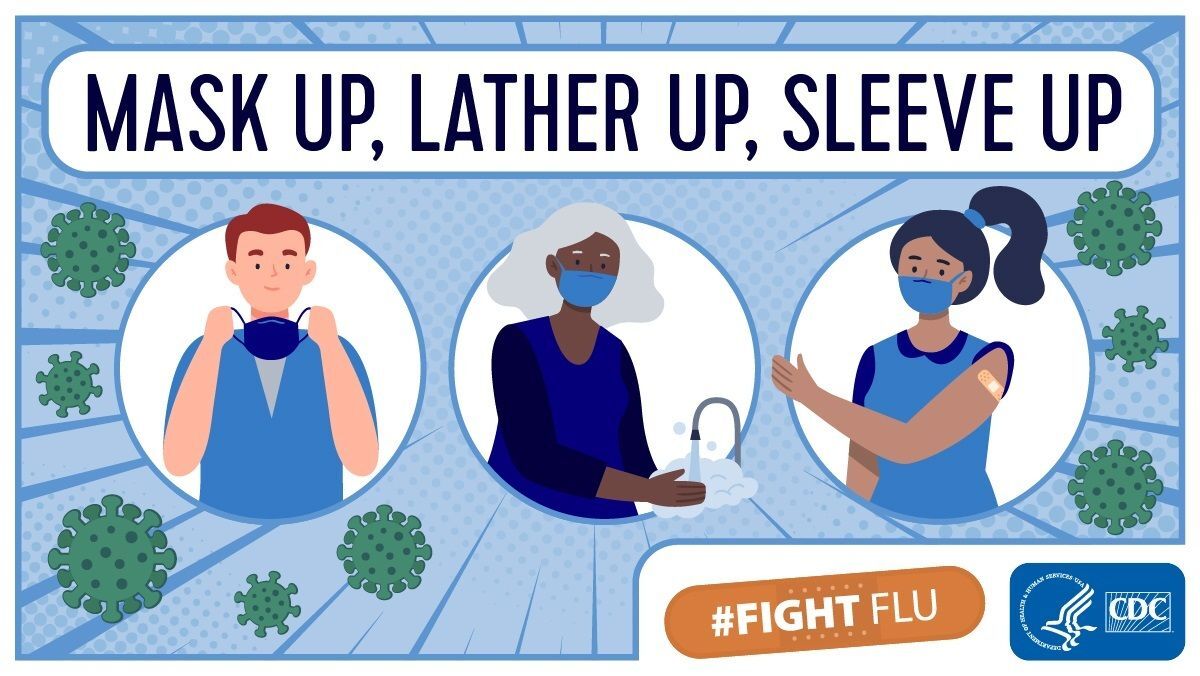 Influenza Symptoms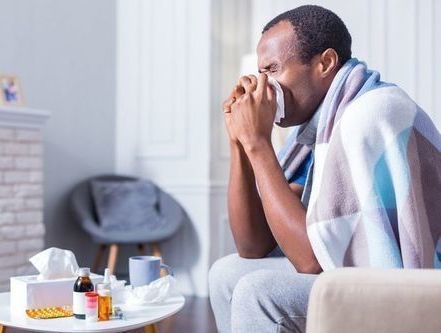 Influenza (flu) can cause mild to severe illness, and at times can lead to death. Flu is different from a cold. Flu usually comes on suddenly. People who have flu often feel some or all of these symptoms:
Fever* or feeling feverish
Chills
Sore throat
Runny or stuffy nose
Muscle or body aches
Headaches
Fatigue (tiredness)
Some people may have vomiting and diarrhea with influenza, but this is more common in children than adults.  Influenza is not the same as what people refer to as "stomach flu". The stomach "flu" happens when your stomach and intestines (also called the gastrointestinal or GI tract) are inflamed and irritated. Causes range from bacteria, viruses, and parasites to food reactions and unclean water.
*Not everyone with influenza will have a fever.
People at High Risk for Influenza
Anyone can get influenza, even healthy people, and serious problems related to influenza can happen at any age. However, some people are at high risk of developing serious influenza-related complications if they get sick. 
If you get sick with flu, antiviral drugs may be a treatment option. Check with your doctor right away if you are at high risk of serious flu complications and you get flu symptoms.  
The following is a list of all the health and age factors that are known to increase a person's risk of getting serious complications from flu:
Adults 65 years and older
Children younger than 2 years old*
Asthma
Neurologic and neurodevelopment conditions
Blood disorders (such as sickle cell disease)
Chronic lung disease (such as chronic obstructive pulmonary disease [COPD] and cystic fibrosis)
Endocrine disorders (such as diabetes mellitus)
Heart disease (such as congenital heart disease, congestive heart failure and coronary artery disease)
Kidney diseases
Liver disorders
Metabolic disorders (such as inherited metabolic disorders and mitochondrial disorders)
People who are obese with a body mass index [BMI] of 40 or higher
People younger than 19 years old on long-term aspirin- or salicylate-containing medications.
People with a weakened immune system due to disease (such as people with HIV or AIDS, or some cancers such as leukemia) or medications (such as those receiving chemotherapy or radiation treatment for cancer, or persons with chronic conditions requiring chronic corticosteroids or other drugs that suppress the immune system)
People who have had a stroke
Other people at high risk from the flu:
Pregnant women and women up to 2 weeks after the end of pregnancy
People who live in nursing homes and other long-term care facilities
People from certain racial and ethnic minority groups are at increased risk for hospitalization with flu, including non-Hispanic Black persons, Hispanic or Latino persons, and American Indian or Alaska Native persons
*Although all children younger than 5 years old are considered at high risk for serious flu complications, the highest risk is for those younger than 2 years old, with the highest hospitalization and death rates among infants younger than 6 months old.