Physical activity and exercise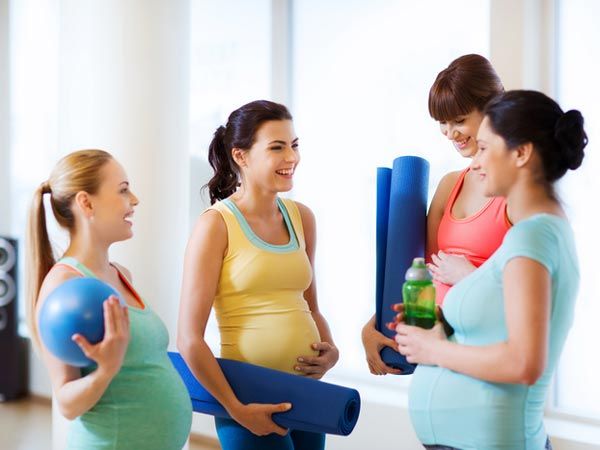 Being physically active during pregnancy offers women
many health benefits, including:
Feeling good as your body changes.
Promoting muscle tone, stamina and strength.
Reducing leg and back pain, constipation, swelling and bloating.
Promoting blood circulation and possibly help prevent varicose veins.
Helping your posture and balance, which is very important as your center of gravity shifts.
Better sleep.
Managing stress.
Reducing chance of preeclampsia and gestational diabetes.
Preparing your body for labor and childbirth.
According to the 2018 Physical Activity Guidelines for Americans, healthy women with uncomplicated pregnancies who are not already doing vigorous-intensity physical activity should get at least 2 hours and 30 minutes (150 minutes) of moderate-intensity aerobic activity, if possible, spread throughout the week.  If you are already doing vigorous-intensity aerobic activity or high amounts of activity, talk to your health care provider about whether you can continue their activity.
Even if you didn't exercise before pregnancy, it's still a good idea to exercise during pregnancy. Talk to your health care provider about how to get started.
 
Exercise Ideas for Pregnant Women
Some forms of exercise are safer than others for people who are pregnant. Try these forms of physical activity and incorporate your favorites into your daily routine:
Walking
Swimming
Cycling on a stationary bike
Strength training
Low-impact aerobic training
 
Stay away from these forms of physical activity while pregnant:
Contact sports such as soccer and basketball
Heavy weightlifting that involves straining
Hot yoga
Hiking at high altitudes
Kickboxing
Downhill skiing or snowboarding
Horseback riding
Roller skating and ice skating
Bike riding