On Site Pharmacy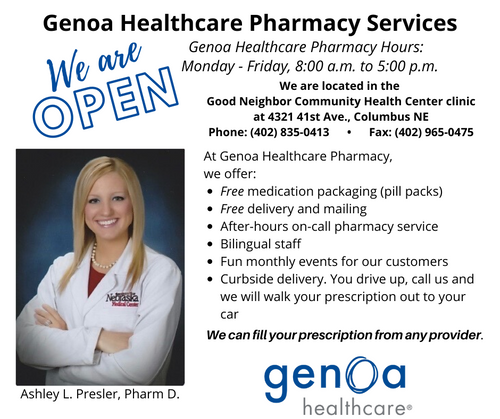 Good Neighbor Community Health Center in Columbus has partnered with Genoa Healthcare to provide on-site pharmacy services to our patients, staff and their families. Genoa Healthcare strives to improve the quality of life for individuals living with behavioral or other complex health issues. This partnership helps us deliver on our mission by providing a higher level of pharmacy services specific to the population we serve.
How Genoa Healthcare helps:
Full-service pharmacy that can fill all of your medications, including those from your primary care physician
Pre-filled pill organizers to help you take the right dose at the right time
Dependable delivery and mail services at no cost to you
A trusting and caring staff to help you with anything that comes up, including medicine and insurance questions
Available to answer questions during business hours or through our 24-hour customer service line
Genoa Healthcare is part of the Good Neighbor team.  We know that when you understand more about your medication, you feel better. Genoa pharmacists and staff are here onsite to help answer any questions or concerns you may have about your medication.  
Learn more about Genoa Healthcare at www.genoahealthcare.com.
The pharmacy is open and the staff is ready to answer your questions – stop by the pharmacy to learn more!
Transportation
We know getting to your appointments can sometimes be a problem, so Good Neighbor provides low-cost transportation to and from your visits with us. If you need this service, please let us know at the time you make your appointment.  This service is available M-Th 8:00 a.m. - 6:00 p.m. and Fridays from 8:00 a.m. - 2:00 p.m.
To Schedule a Ride for Columbus
Call:  (402) 562-7500  

To Schedule a Ride for Fremont
Call: (402) 721-0951
Fees for both locations:
In Town:
One Way  $2.00
Roundtrip  $3.00

Out of Town
One Way   $5.00
Roundtrip  $10.00