COVID-19
Vaccines for COVID-19/Vacunas contra la COVID19
COVID19 vaccines for children
We are now scheduling COVID-19 vaccines for 1st and 2nd doses, as well as boosters for our Wednesday vaccine clinics. Booster shots are now available for anyone aged 12 yrs. + who has received either the Moderna or Pfizer vaccine series at least 5 months ago.  Persons who had Johnson and Johnson vaccines 2+ months ago are also eligible for booster shots. Clinic times are 10 a.m. - 7 p.m. every Wednesday, in the FEMA room at East Central District Health Department, 4321 41st Ave.  Please call (402) 562-7500 to schedule your appointment.  Pfizer, Moderna, and Johnson & Johnson vaccines are available.
For children ages 5 to 18 years, clinics are Mondays and Tuesdays, from 3 p.m. to 5 p.m.  Pfizer vaccines only.
---
Ahora estamos programando las vacunas contra la COVID-19 para las dosis 1ª y 2ª, así como refuerzos para nuestras clínicas de vacunas de los miércoles. Las inyecciones de refuerzo ahora están disponibles para cualquier persona de 12 años. + que ha recibido la serie de vacunas Moderna o Pfizer. La dosis de refuerzo se puede realizar al menos 5 meses después de completar la serie de vacunas primarias de ARNm.Las personas que recibieron las vacunas de Johnson y Johnson hace más de 2 meses también son elegibles para las inyecciones de refuerzo.  El horario de la clínica es de 10 a. m. a 7 p. m. todos los miércoles, en la sala FEMA del Departamento de Salud del Distrito Este Central, 4321 41st Ave.  Llame al (402) 562-7500 para programar su cita.  Las vacunas Pfizer, Moderna y Johnson & Johnson están disponibles.
Para niños de 5 a 18 años el horario de la clínica es 3 p.m. a 5 p.m. lunes y martes.  Solo Pfizer.
Guidance for COVID-19 Omicron Variant/Guía para COVID-19 Omicron Variante
COVID-19 Symptoms and Spread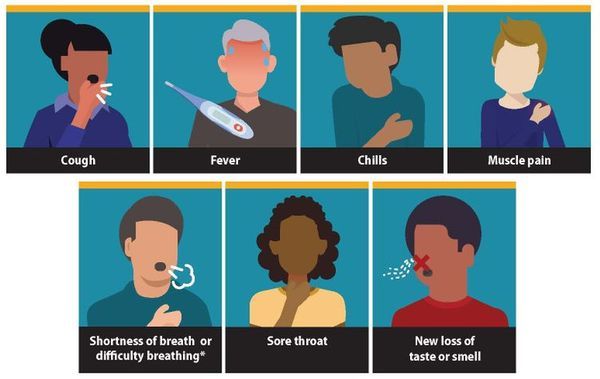 Watch for symptoms
People with COVID-19 have had a wide range of symptoms reported – ranging from mild symptoms to severe illness.  Symptoms may appear 2-14 days after exposure to the virus. People with these symptoms may have COVID-19:
To learn more about COVID-19, please visit:
Fever or chills

Cough

Shortness of breath or difficulty breathing

Fatigue

Muscle or body aches

Headache

New loss of taste or smell

Sore throat

Congestion or runny nose

Nausea or vomiting

Diarrhea
This list does not include all possible symptoms. CDC will continue to update this list as we learn more about COVID-19.
---
WHEN TO SEEK EMERGENCY MEDICAL ATTENTION
Look for emergency warning signs* for COVID-19. If someone is showing any of these signs, seek emergency medical care immediately
Trouble breathing

Persistent pain or pressure in the chest

New confusion

Inability to wake or stay awake

Bluish lips or face
*This list is not all possible symptoms. Please call your medical provider for any other symptoms that are severe or concerning to you.
Call 911 or call ahead to your local emergency facility: Notify the operator that you are seeking care for someone who has or may have COVID-19.
---
Prevention Tips
Protecting Yourself and Others from COVID-19
Know how it spreads
The virus is thought to spread mainly from person-to-person.
Between people who are in close contact with one another (within about 6 feet).

Through respiratory droplets produced when an infected person coughs, sneezes or talks.

These droplets can land in the mouths or noses of people who are nearby or possibly be inhaled into the lungs.

COVID-19 can be spread by people who are not showing symptoms.
Right now everyone should:
Wash your hands often
Wash your hands often with soap and water for at least 20 seconds especially after you have been in a public place, or after blowing your nose, coughing, or sneezing.

If soap and water are not readily available, use a hand sanitizer that contains at least 60% alcohol. Cover all surfaces of your hands and rub them together until they feel dry.

Avoid touching your eyes, nose, and mouth with unwashed hands.
Avoid close contact
Avoid close contact with people who are sick, even inside your home. If possible, maintain 6 feet between the person who is sick and other household members.

Put distance between yourself and other people outside of your home.

Remember that some people without symptoms may be able to spread virus.

Stay at least 6 feet (about 2 arms' length) from other people.

Keeping distance from others is especially important for people who are at higher risk of getting very sick.
---