Did You Know Your Child Can Get Free Vaccines?
The Vaccines for Children (VFC) program provides free vaccines to children who qualify. About half of American children less than 19 years old receive VFC vaccine.
Children are eligible if it is before their 19th birthday and they:
Qualify for Medicaid
Don't have insurance
Are American Indian or Alaska Native
Children whose insurance doesn't cover some or all routinely recommended vaccines (underinsured) can still get vaccines through VFC if they go to a Federally Qualified Health Center like Good Neighbor clinics in Columbus and Fremont.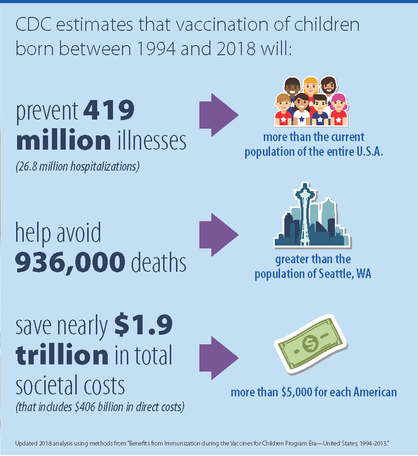 Diseases that are preventable by recommended childhood vaccines include the following:
Diphtheria

Haemophilus influenzae type b (Hib)

Hepatitis A

Hepatitis B

Human Papillomavirus (HPV)

Influenza (flu)

Measles

Meningococcal

Mumps

Pertussis (whooping cough)

Pneumococcal

Polio

Rotavirus

Rubella (German Measles)

Tetanus (lockjaw)

Varicella (chickenpox)
Click on the graphics below to open downloadable vaccine information charts