What Is A Community Health Center?
Good Neighbor Community Health Center (Columbus) and GN Fremont are one-stop primary health care clinics that offer a wide variety of services, including family and general practice medicine, pediatrics, OB/GYN care, dentistry and behavioral health.  We are located together so you can more easily meet YOUR healthcare needs.
Good Neighbor Community Health Center and Good Neighbor Fremont are federally qualified community health centers (FQHC).  FQHC is a federal designation given by the Bureau of Primary Health Care at the federal Department of Health and Human Services. FQHCs are located in, or serve, a federally designated medically underserved area/population. The Federally Supported Health Centers Assistance Act of 1992 and 1995 granted medical malpractice liability protection through the Federal Tort Claims Act (FTCA) to HRSA-supported health centers. Good Neighbor Community Health Center is an FTCA Deemed Agency.
---
Nebraska Health Centers Respond to COVID-19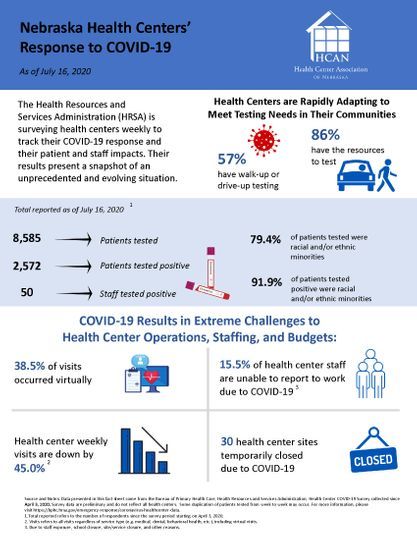 As trusted, community-based providers of comprehensive health care services, health centers are uniquely situated to address the needs of the individuals who are disproportionately impacted by COVID-19.  People of Color represent 22% of Nebraska's population but nearly 60% of  positive COVID-19 cases.
Health centers have tested over 8,500 individuals to date, with an average positive rate of 30%

Statewide positive rate has been around 8%

80% of individuals tested are of a racial/ethnic minority
Federal Funding
Health centers did receive federal funding, which supported:
Retaining staff while services were temporarily closed and patient revenue was severely diminished.

Establishing testing locations, including temporary and drive-thru locations.

The purchase of PPE (personal protective equipment) and testing supplies.

Expanding telehealth services.

Establishing remote work for employees.

Ensuring a safe patient experience.

Pharmacy delivery.

Temporary patient triage locations.

Re-purposing clinic locations to only triage and treat symptomatic patients.

Increasing cleaning and laundry staff.

Increasing home visit capacity and resources to reach patients who are experiencing homelessness, migrant populations, or individuals who do not have internet access or appropriate technology.
Health centers had to temporarily close dental clinics, school-based health centers, and mobile dental units and consolidate satellite clinic locations during the early months of COVID-19.  Health center visits are still down 45% compared to pre-pandemic numbers, impacting the health and safety of many in our communities.
Health centers are providing:
Curbside glucose and blood pressure checks.

Drive-up pharmacy services.

Drive-thru COVID-19 testing.

Case management for COVID-19 positive patients.

Telehealth and remote patient monitoring.
To learn more about community health centers and their patients, take a few minutes and watch this video from the National Association of Community Health Centers